Brit-PACT's Past Annual Meetings
Our Annual Education Meeting is our main educational event. We have held five successful "Frontiers in Psoriatic Arthritis" conferences with over 50 attendees each year. Each meeting consists of a number of plenary lectures, practical workshops and research updates. We cover current Brit-PACT research activities within the group with the opportunity for input from members.
---
Brit-PACT First Virtual Update Meeting Friday 27th November 2020
In place of the original annual meeting date, Brit-PACT held virtual update meeting via Zoom on Friday 27th November 2020. This meeting was chaired by Dr Deepak Jadon, Addenbrooke's Hospital Cambridge & Dr William Tillett, RUH Bath. Please click here to see the agenda.
To see a recorded version of this meeting, please go to https://youtu.be/uQQGRzLAZa0 
---
Brit-PACT Fifth Annual Meeting Friday 22nd November 2019
Last year's conference was held on 22nd November at The Studio, Birmingham. We ha

d over 60 attendees (including a mix of rheumatologists, dermatologists, other health professionals, scientists and patient partners).
The programme for the day can be found here, along with updates from the Steering Committee, we had talks from Dr Alexis Ogdie (University of Pennsylvania) on 'Can psoriatic arthritis be prevented?' and a talk from Dr Anushka Soni University of Oxford on 'Pain and psoriatic arthritis'.
Feedback received from attendees rated the day 100% highly or mostly relevant to their educational needs, with excellent or good ratings for all speakers and workshops.
Please see below the photos of the day: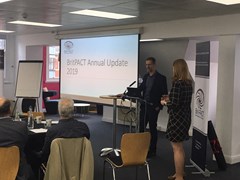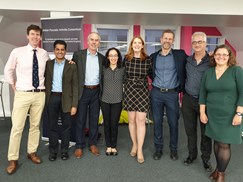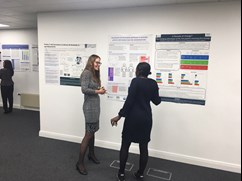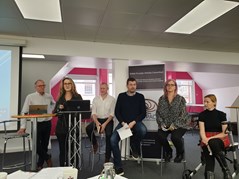 ---
The First Collaborative Educational Initiative to Support Local Patient Groups Thursday 21st November 2019
A collaborative educational initiative to support local patient support groups and education days was held in 2019 for the first year, this meeting discussed educational initiatives to improve patient support groups and education for Psoriatic Arthritis in the UK.
This meeting was attended by members of Brit-PACT Steering Committee, Brit-PACT's Patient Partners and representatives from Arthritis Action, The Psoriasis and Psoriatic Arthritis Alliance – PAPAA, the Psoriasis Association, the Bath Institute for Rheumatic Diseases - BIRD & Versus Arthritis.
---
Brit-PACT Fourth Annual Meeting Monday 19th November 2018
On Frida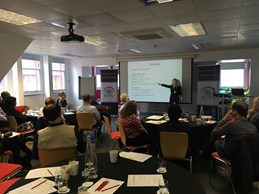 y 19th November 2018, Brit-PACT hosted its annual education day "Emerging Frontiers in Psoriatic Arthritis".  The meeting was held at The Studio in Birmingham and was a great success with 50 delegates attending.
There were two keynote lectures.  The first from Professor Donal O'Shea the National Clinical Lead for Obesity in Ireland from University College Dublin on "the impact of obesity on obesity".  This fascinating talk highlighted the massive scale of the obesity issue in recent times.  He discussed key isssues influencing obesity including societal influences, food production and consumption, psychology, activity and biology.  He also gave a fascinating insight into the immunological changes seen in obese patients.
The second keynote was given by Professor Costantino Pitzalis, a professor of experimental medicine and rheumatology from Queen Mary University London.  The talk was on stratified medicine and how this may influence our management of patients in the future.  He summarised a number of studies in different types of inflammatory arthritis and how synovial biopsies might be used to identify particular tissue phenotypes in arthritis so that appropriate biologic therapies can be targeted at individuals.  This has the potential to revolutionise treatment of inflammatory arthritis where up to 40% of patients do not respond to new therapies.
There were two hour-long workshops.  The first, run by our patient group the BritPACT patient communications group (BPPCG), involved two of our patient partners telling their very personal stories of the impact that PsA has had on their lives.  The other workshop, run by Professor Chris Bundy from Cardiff University and Laura Howells from the University of Nottingham taught clinicians how to integrate a motivational interviewing approach into routine clinics.  This approach has been proven useful to motivate patients to adopt more healthy behaviours and a brief intervention can be performed within a routine clinic appointment to support and challenge our patients to address their health and lifestyle.
As part of our commitment to trainee and patient involvement, we also ran two competitions which were awarded at the meeting this year.  Each meeting has had a trainee abstract competition and this year we had two winners who gave oral presentations – Dr Jeeu Teck Sze a trainee from Liverpool and Dr Ganesh Kavaskar a trainee at Coventry Hospitals.  There were also two runner ups who presented poster abstracts – Dr Christina Ye from Oxford and Dr Anna Anthony from Bath.  For the first time, we also had a patient poster competition.  Patietns were invited to submit a poster to illustrate the impact of PsA on their life.  The winner, aged just 16 was Kaci-Leigh Rose from Bath and a runner up prize was awarded to Lynne and Andrew Southworth who set up a Facebook support group for people with PsA.  Congratulations to all of them!!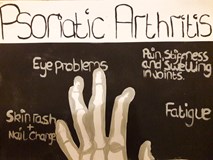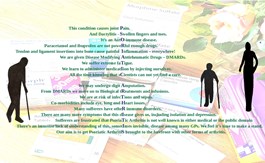 ---
Brit-PACT Third Annual Meeting Wednesday 20th September 2017
The BritPACT 3rd Annual Meeting was held on 20th September 2017 with 62 delegates at the Hilton Metropole Hotel at the National Event Centre in Birmingham.
Feedback from the meeting was excellent. All participants rated the quality of the education as good or excellent and also rated it as effective or very effective for continuing professional development.
You can download a PDF of the agenda here.
---
Brit-PACT Second Annual Meeting Friday 7th October 2016
You can download a PDF of the agenda here.
---
Brit-PACT First Annual Meeting Wednesday 14th October 2015
You can download a PDF of the agenda here.